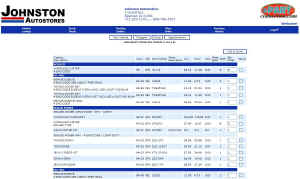 Features:
Fast Year, Make, Model, Engine, Parts Locator
Service Maintenance Schedule
Interchange Part Numbers with O.E.M. Numbers
Vehicle Specifications
Integration Service available for your Management System
Our new internet software allows you to do all the above items and more!
Just login at the site below and start enjoying the features.
http://www.epartconnection.com
You will need to enter the below at Store Id:
23354.SP if you are a Spencer customer
23354.AL if you are a Algona customer
23354.SI if you are a Sioux City customer
23354.AM if you are a Ames customer
23354.MA if you are a Mason City customer
23354.FD if you are a Fort Dodge customer
23354.SH if you are a Sheldon customer

Then enter your customer number at Customer Number:
Include all numbers, even leading 0 if it has one.

Then enter your password. (If you don't have one or remember it, call
888-287-7038 (Loren) for it.

When you have entered Epart for the first time, click on (Logoff). Then
right click on screen. Select save to favorites or create shortcut. This
will save you time in the future.

Your browser will remember the Store Id and Customer Number if it is
configured to accept cookies.

Once you enter your order, the invoice will be printed in our store. Our staff
will confirm delivery time via email or phone.
Note: All store locations will be added soon after short testing period.
All customers may log onto 23354.SP if their store is not listed.